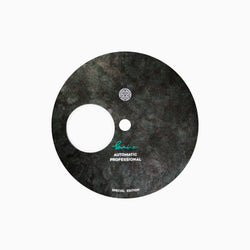 The Sumi-e, known as ink wash painting was first introduced to Japan by Zen monks. Drawing inspiration from Zen practices the painting approach expresses reality by reducing it to its most basic, unadorned form. Balance, clarity, harmony, and simplicity are the key to the art of Sumi-e. The open heart dial is designed with these elements at its core that bring harmony between the movement and the dial.
Specifications
      •   28.5mm diameter dial
      •   Black with green and brown based colour
      •   
3D Sumi-e pattern embossed design
 

     •   
Super-LumiNova C3 / BGW9
      •   
Do note that C3 indices are slightly creamy
 

     •   4 dial feets to fit 3pm / 4pm crown position
 

     •   
Q
uality assurance by ISO 9001 certified manufacturer
Compatible Movements
      •   4R38, 4R71
 

     •   NH38, NH39, NH70, NH71, NH72
Fan
Absolutely beautiful dial, extremely satisfied. Can't wait to see what gets released next.
Fan!
Absolutely beautiful dial, can't wait to see what release are next.