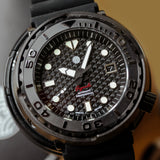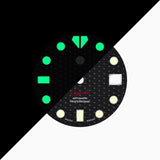 KOMO
Japanese Seigaiha Dial
Inspired by one of the rich histories of Japan, The Great Wave off Kanagawa. This dial is designed to symbolize the trademark of the great wave. Repetitive, symmetrical, and eye-catching. The details of the Seigaiha wave are carefully designed with precision to create the wave in a pattern of layered concentric circles.
Specifications
      •   28.5mm diameter dial
      •   Black based colour
      •   
3D Seigaiha pattern embossed design
 

     •   
Super-LumiNova C3 / BGW9
      •   
Do note that C3 indices are slightly creamy
 

     •   4 dial feets to fit 3pm / 4pm crown position
 

     •   
Q
uality assurance by ISO 9001 certified manufacturer
Compatible Movements
      •   4R15, 4R34, 4R35, 4R36
      •   6R15
      •   7S26, 7S36
 

     •   6309, 7002, 7009
 

     •   NE15, NH25, NH26, NH34, NH35, NH36
For 4R34 and NH34 movement, fill in the note of the movement upon checking out and our team will drill the pinion hole to fit the movement.
High quality dial
This dial has exactly what I wanted, fine detail wave pattern. The lume matches perfectly with the other lume on my watch. It's a great centerpiece for my DIY Sieko mod.
This is so striking
All i can say is wow, pictures doesn't do it justice. looks so amazing in real life
Fabulous dial
Excellent, with great attention to detail. The pattern looks incredible especially under a magnifying loop.
Seigaiha dial
Very nice dial with good lume and a quick delivery...thnx
Amazing Dial
Love the design and build quality dial.