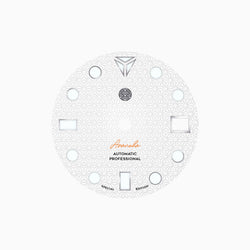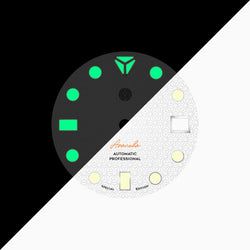 KOMO
Japanese Asanoha Dial
The aggregate of triangles conveys a meaning of strength and beauty. This dial represents resilience, power, and strength. It is known to be one of the most popular traditional patterns often seen on the Japanese kimono. The details of the dials are carefully designed with precision to create a clean and sophisticated look.
Specifications
      •   28.5mm diameter dial
      •   White based colour
      •   
3D Asanoha pattern embossed design
 

     •   
Super-LumiNova C3 / BGW9

      •   Do note that C3 indices are slightly creamy
 

     •   4 dial feets to fit 3pm / 4pm crown position
 

     •   
Q
uality assurance by ISO 9001 certified manufacturer
Compatible Movements
      •   4R15, 4R34, 4R35, 4R36
      •   6R15
      •   7S26, 7S36
 

     •   6309, 7002, 7009
 

     •   NE15, NH25, NH26, NH34, NH35, NH36
For 4R34 and NH34 movement, fill in the note of the movement upon checking out and our team will drill the pinion hole to fit the movement.

Great Dial
The dial arrived promptly, and was just as described. It seemed to be very delicate, and (compared to other dials) I would certainly advise to take extra care when handling and installing it. Once installed the pattern was just gorgeous.
Incredible detail
There are cheaper dials out there, but this is one of the most intricate dials you can find. Absolutely stunning!
Fantastic Quality
Not the cheapest but you get what you pay for.
Fantastic quality. Not quite as white in the flesh as it is in the photos but really happy.
Thanks
Polar mod
This is a perfect dial for my polar mod!
High quality products.
Very good quality dial. Thank you.