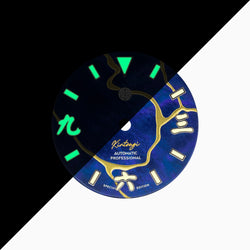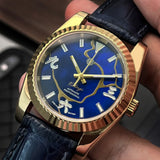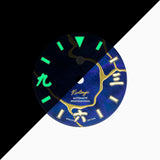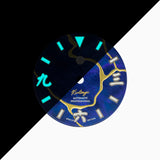 KOMO
Japanese Kintsugi Dial
The Kintsugi is a form of Japanese art process used to repair ceramic items with gold plating. In order to make a new object, a piece of art, the fractures are left visible with highlighted gold plating. The dial is designed with the mixed modern mother of pearl and gold plating to form the art of Kintsugi.
Specifications
      •   28.5mm diameter dial
      •   Blue mother of pearl based colour
      •   Kintsugi

 pattern embossed design
 

     •   
Super-LumiNova C3 / BGW9
      •   Do note that C3 indices are slightly creamy
 

     •   4 dial feets to fit 3pm / 4pm crown position
 

     •   
Q
uality assurance by ISO 9001 certified manufacturer
Compatible Movements
      •   4R15, 4R35, 4R36
      •   6R15
      •   7S26, 7S36
 

     •   6309, 7002, 7009
 

     •   NE15, NH25, NH26, NH35, NH36
Impressive craftmanship
Incredible dial, plays wonderfully with light. The finishing of the hour markers is immaculate. Can only recommend !
Amazing Dial
Great dial, beautiful and sophisticated.
Kintsugi dial
I received the dial and there were some issues with it... komo send me a new one and it was fine ... good service👍
Immaculate finish + beautiful concept + friendly chat service
I love the quality of the dial from Komoworks. There are plenty of dials on the market (and some a little cheaper) but none come close to the finish and concept of Komo dials. Fast delivery, super responsive team, and the product looks exactly as pictured (even better once you see it in person). 100% recommend. If you want to see more images check out https://www.instagram.com/p/CaPvSlDvTY2/
Absoluut great
Beautiful dial, great fit and finish. No improvements at all.