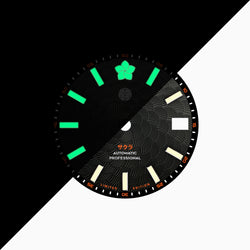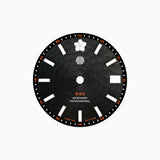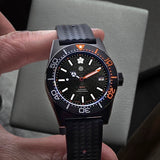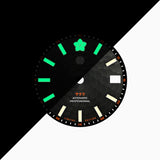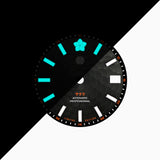 KOMO
Limited Edition Black Sakura Dial
The black Sakura features a stunning black background with delicate cherry blossom petals that create an elegant and sophisticated look. The design add a touch of femininity to the 12pm indices while having the orange colour contrast to maintain a strong and bold appearance. This dial is crafted with precision and attention to detail, making it a work of art that is sure to be admired and appreciated by anyone who sees pattern of the Sakura.
This is a limited edition dial and only 100 pieces available.
Specifications
      •   28.5mm diameter dial
      •   Black based colour
      •   
3D Sakura pattern embossed design
 

     •   
Super-LumiNova C3 / BGW9

      •   Do note that C3 indices are slightly creamy
 

     •   4 dial feets to fit 3pm / 4pm crown position
 

     •   
Q
uality assurance by ISO 9001 certified manufacturer
Compatible Movements
      •   4R15, 4R34, 4R35, 4R36
      •   6R15
      •   7S26, 7S36
 

     •   6309, 7002, 7009
 

     •   NE15, NH25, NH26, NH34, NH35, NH36
For 4R34 and NH34 movement, fill in the note of the movement upon checking out and our team will drill the pinion hole to fit the movement.